Fast Pitch Resource Page
Stuff you need to know…
Judy Hawkins

805.455.8381
Lisa Braithwaite

805.207.7647
SPREAD THE PASSION – Share Fast Pitch SB with your friends and colleagues
bitly.com/FastPitchSB
Twitter: @SVPsantabarbara
Facebook: FastPitchSB
---
Group coaching session #3 videos 9/23/15


Click here to view entire playlist on YouTube. (Do not share link; do not comment!)
Group coaching session #2 videos 9/2/15


Click here to view entire playlist on YouTube. (Do not share link; do not comment!)
---
Pitchburner
Coaches login: Your e-mail address
Password: FP2015
Speakers login: E-mail you used to submit your Fast Pitch application
Password: Password you selected at time of application
After login, go to SUBMISSIONS, then VIEW, then scroll all the way down the page past the application to ATTACHMENTS to download videos.
Problems with login? Contact Judy (e-mail above).
Master contact list
Coaches&Speakers Master Contact_rev8.19.15
Coach milestones
Scorecard
---
Meeting space
workzones
Sponsored co-working space for coaching meetings
Non-member reservations required by coach
Contact: Summer Hodges
summerhodges@workzones.com
805-966-3722
Workzones hours: 9am – 7pm Mon-Fri and 10am – 2pm Sat.
Best times for private rooms: Fridays, Saturdays and weekdays 4-7 p.m.
Reservations available to Fast Pitch after 4 pm M-F and Saturdays. All other times, check on arrival for private rooms or co-workspace.
TV Santa Barbara
Call or email Missy Foster: 571-1721 (missy@tvsb.tv) to reserve space. Be sure to say you are with Fast Pitch SB
GoToMeeting
To activate your GoToMeeting account:
1. Navigate to www.gotomeeting.com
2. Click the "Try it free" button
3. Complete the registration (first and last name, email and password)
4. Click the "Have a promo code?" link and enter this code: fastpitchsb
5. Click the "Start your trial" button
6. You're all set!
---
Group meeting dates
At Balboa Building, 735 State Street, Basement
8/19/15: Group Coaching Session #1 — 9-noon
9/2/15: Group Coaching Session #2 — 9-noon
9/23/15: Group Coaching Session #3 — 9-noon
At Deckers Rotunda
10/14/15: Group Coaching Session #4 (Dress rehearsal for 10 finalists) — 9-12
5/15/14: Fast Pitch finale, 5-9 pm
---
Resources
Caron Miller – Wardrobe Consultation
Stuck about what to wear on stage at the finale? 2014 Coach Caron offers complimentary wardrobe/ color consultation for all Fast Pitch SB speakers
before October 14.
Find her at caron@caronmiller.com
(805) 899-4379
Speaking Resources
Lisa's stage presence tips
Presentation Preparation Worksheet
Amy Cuddy TED Talk: Power Poses
---
Tapping videos from coach Marilyn O'Malley
Tapping or EFT (Emotional Freedom Technique) is one of the most powerful and effective mind/body techniques for clearing emotional blocks that keep you from achieving what you want. Briefly, It works by tapping on acupressure points that let you access your subconscious mind, stops your fight/flight stress response and lowers your cortisol levels and so much more. To find out more about its history and research check out this site: http://www.emofree.com/eft-tutorial/tapping-basics/how-to-do-eft.html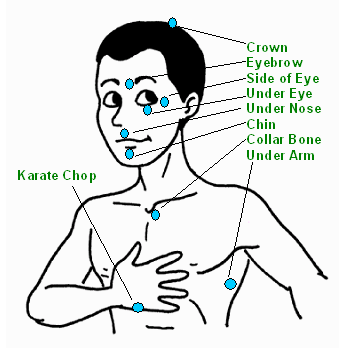 The above picture shows you the tapping points: In my videos I use all of tapping points except the hand and side of the body. If you are familiar with tapping and have used other points follow what works for you. I have had great results with myself and my clients tapping how I do in the video. Do what feels right for you.
Tapping on Fear of Public Speaking Part 1-Body Sensations
Tapping on Fear of Public Speaking Part 2-Feelings and Thoughts
Tapping on Fear of Public Speaking Part 3-Desired Stage Presence
---
Readings
Speaking from a script doesn't have to sound scripted
Christophe Waltz's acceptance speeches
Blog Posts on Fun and Engagement
Add fun to your presentation with props
26 posts on what you can learn from comedians
The best comedy comes from real life
So you love public speaking. Now what?
Three tips for directing your audience's response
It's not how many words you use, but how you use them
---
Blog posts on confidence
You only need one successful presentation
Don't let the confidence-suckers get you down
Be the guy no one wants to speak after
Do you have the confidence to be clear?
---
General Presentation Resources
Present Your Best: 11 Strategies for Magnifying Your Confidence… Both Onstage and Off (free e-book)
Visit the Speak Schmeak Blog
Visit my Public Speaking Playlist on YouTube
---
2014 Fast Pitch Winner and Audience Prize winner Bethany Markee
2014 Fast Pitch finalist Stephen Jones
See the Fast Pitch SB YouTube Channel for all 10 2014 finalist videos
---