More than ever, our audiences are surrounded by interruptions and preoccupied with other duties, projects and commitments while they attend our virtual trainings.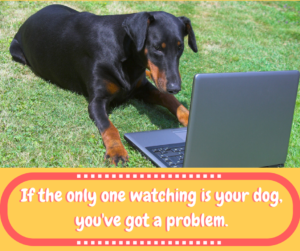 It's not even a matter of how to keep them from going to Facebook or e-mail during your training, but rather how to reduce the number of times they go to Facebook and e-mail!
You'll be pleased to know that webinars can be easy, fun, and rewarding, and that you only need a few basic essentials to get yourself started.
Most important: You CAN keep your audience engaged and interested, with just a few tools in your toolbox!
Join me on Friday, December 1 at 1:00 PST/4:00 EST for my free webinar Your Webinar Success: Speak to Engage Virtually!
---
Hi, I'm Lisa Braithwaite! I'm a public speaking coach and trainer, mentoring entrepreneurs and professionals to deliver engaging and memorable presentations in order to build their businesses through speaking.
Many of my clients come to me with doubts about their public speaking abilities and lack of confidence in their possibilities for improvement. They see themselves where they are, with little experience and little practice. They can't imagine their future selves standing on stage in front of 50, 100, or 500 people, having the time of their life, connecting and engaging with their audience.
They're envisioning this long, painful journey from point A to point Z, and all the hard work and anxiety in between. And yes, becoming an established speaker with a reputation for excellence does take time and work, I'm not going to lie.
However, you only have to have one successful presentation to put you on the path to greatness. What do I mean by "successful?" I mean this: After your presentation, you find yourself having these three revelations:
"I did it."
"I enjoyed doing it."
"I want to do it again."
This is success! And it's a huge turning point for my clients. You don't have to deliver 100% perfect presentations, and you don't have to have standing ovations (believe me, it's not that common among us regular folks). But if you can accomplish these three things, you're going somewhere. You're now at point B, and that's the best place to be if you want to grow as a speaker.
What's point Z, anyway? There's no such thing. No speaker ever reaches perfection, nor does she want to. But with each step along the way, we learn, we grow, we improve. Then we learn more and grow more and improve more.
Start with getting from point A to point B. Start with finding your own enjoyment of reaching out and connecting to your audience. And you'll be on your way!