Companies, associations, industry groups:
Are you unclear about how to promote your business without sounding like a commercial?

Is your leadership team great at management, but not so great in front of an audience?

Are your members reluctant to present at industry conferences due to lack of training and experience?

Would you like your staff's performance while presenting to be as strong as their performance on the job?

Are your employees just not getting your message across when they speak to colleagues, executives, community members and other stakeholders?
One of the most critical skills for today's professionals, in just about every field, is public speaking. Your employees or group members are leading meetings, facilitating trainings, networking in the community, pitching vendors and customers, making sales calls, speaking at conferences — participating in every possible form of public speaking.
Yet most of them have no idea how to express themselves effectively to these audiences and, more importantly, to get the results they desire.
My public speaking and presentation skills workshops and group coaching programs are based on personal experience and solid research. They're concrete, in plain English, fun, and full of practical ideas for participants to implement right away. You and your group will learn how to be more prepared, more engaged and more confident in their speaking abilities.

My training audiences have shared the following in surveys 3-5 months after their training:
95% say they are 50%-300% (yes, 300%!) more confident about public speaking than they were before the training.
89% say they're still using the skills and concepts they learned either daily, weekly, or monthly
"The training we had with Lisa was awesome. It was amazing to see how our team opened up within minutes and started toying with the concepts introduced. Even the introverts among us immediately participated in the exercises.

Personally, my main takeaway was the connection to be made with the crowd we speak with. I complete this through a number of approaches, both before and during the sessions. Also I always remember to keep my empathy levels tuned to the crowd's pain points. Thanks for the great training!"

Oded Dvoskin, Sr. Program manager, Azure App Service
Microsoft

"I took the training one week before my four sessions at Microsoft Ignite. The training helped me a lot with confidence and preparation.

I got really good reviews for all my talks; I wouldn't have been successful without Lisa's coaching.

Ahmed Elnably, Program Manager, Azure App Service
Microsoft
"Thank you so much for the assistance this past winter. AgWest has recently accomplished our winter growth goals for the company and I truly believe Lisa had a big hand in making it possible.

We had doubts, but the outcomes were tenfold our expectations. Lisa connected to our small group in the only way that counts. She gained our trust and confidence very quickly and allowed each of us to come out of our shells and perform.

Lisa gave each of our presenters the ability to show the outside audience (big or small) what we so desperately care about inside. All 14 that completed Lisa's workshop are not only producing better results, they are less apprehensive about themselves and now can focus on the task at hand, the customer and their service. Our only regret is waiting too long.

Whether we're speaking one-on-one or in front of a larger audience, the tools and techniques that Lisa shared with us shine through. Prior to Lisa, we thought our talks were for the audience; now after Lisa's help, we know it's only about the audience. This has led to more direct business and additional speaking events. Thank you Lisa!"
"Lisa led a workshop for the Junior League of Santa Barbara that was engaging, insightful and I am certain will make a lasting difference in our members. She took the time to really understand the League and customized her presentation to truly benefit the group. Her vast knowledge and experience shown through in her ability to be educational, while also keeping it really fun"
"Lisa Braithwaite, because of her enthusiasm and passion for coaching, makes her public speaking classes fun and engaging.

But more importantly, her passion for her subject and life in general infects everyone in her classes, resulting in entertaining and engaging teaching experiences that help her students strip away the self conscious mannerisms that can be a speaker's worst enemies."

Leeana McNeilley, Director of Home Care Services
Help Unlimited
"Over the past several years, Lisa Braithwaite has provided several presentations for entrepreneurs through our organization. Most recently, Lisa presented to a group of small business owners and it was an exceptionally valuable experience for all participants. She spoke about how to use your voice to authentically connect with your target client, and provided practical tips and challenges for the audience to put in to practice right away. Lisa had a friendly, engaging presence as a speaker that participants found easy to follow and enjoyable. Feedback from those who attended included:

• 'Great advice on building confidence for giving a speech.'
• 'Very useful.'
• 'I really was inspired by Lisa.'
• 'Very funny and engaging!'
• 'Tools I can use right away to tell my story in a compelling and connecting manner'

Lisa's expertise is very relevant for small business owners who are looking for ways to build their confidence, improve their ability to communicate clearly and, in turn, market themselves and their businesses more effectively. We are so grateful that she has shared her expertise with our organization and look forward to continuing to work with Lisa in the future.
"THANK YOU for speaking at Expo. You are fabulous and deliver such an important message. My only wish is that the industry was up-to-speed a bit more.

Your participation led an air of excitement to the event. And thank you too for spearheading WTE social media outreach. I loved retweeting your tweets.

I too hope we work together again. I look forward to seeing you and next time, sharing a cup of tea."

Kim Jage, Former Sales and Marketing Director, World Tea Media
World Tea Expo
Las Vegas, NV
"It was our pleasure to work with Lisa. Her coaching proved to be invaluable to our members at our event.

She most certainly brings impactful results to her audiences, and we look forward to continuing our relationship with her for many years to come."
"I had a fair amount of experience with networking before the training, but have been 'out of practice' for two years. Lisa's business networking training was a reminder to really think about how I present the organization I work for in terms that other people can understand and relate to.

I believe that our department became aware not only to be active when at a networking event, but also how to be an active and engaging networking host.

Lisa's training really started the conversation about how we collectively present ourselves to others and how we can improve on how others perceive us as an organization."

Ashley Butler-Soberano, Projects Coordinator and Assistant to the Vice President of Philanthropic Services
Santa Barbara Foundation
Santa Barbara, CA
"Lisa did a fantastic job speaking at NAWBO (The National Association of Women Business Owners), Ventura County. She helped us all to think about elevator speeches in a different way. Her presentation was interactive and engaging. Comments from the attendees included:

'Liked the interactivity.'

'Great! I absolutely enjoyed it. I will take what I learned and implement.'

'Very Relaxed, fun presentation. Made me think differently about elevator speeches.'

Thank you Lisa for taking the time to visit us and for sharing your wisdom. I hope that our paths cross again soon!"

Alison Balter, Best Selling Author and Owner of InfoTech Services Group, Inc.
Venice, CA
---
It's been such a thrilling experience to be the lead coach and trainer for Social Venture Partners Fast Pitch speakers since 2014. Here's a great little highlight reel that captures a fraction of the excitement and pride we all felt on the night of the 2015 finale.  Enjoy!
---
Onsite Group Coaching
---
If your company or association doesn't have the time or ability to bring everyone together for full-day trainings, group coaching might be the solution you're looking for.
Public speaking group coaching is a six-week program which begins with a 3-hour foundational training, either in person or via a virtual platform. After the training, we meet for 60-minute sessions, focused on all aspects of effective presentations, with an emphasis on building skills and confidence. The group size (6-8 participants) is small enough to be intimate and flexible, and the group's input on topics and issues informs the sessions.
We use a presentation preparation checklist to guide discussion on all aspects of a presentation, from setting objectives, to presentation structure, to audience interactions and engagement, openings and closings and delivery.
The program also incorporates exercises and activities based on the needs of the group, and videotaping of three short presentations with (private) critique from me and feedback from the group. Discussion includes issues relevant to each group, like nervousness and relaxation techniques, effective PowerPoint, networking and other related topics.
"Although this wasn't my first training, it was definitely the best!! I came out much more confident! I love telling my personal story of recovery and perseverance. Thanks Lisa Braithwaite!!"

"This training changed my life. Lisa's training made it easy. The one thing I hold on to is 'Have fun in your own skin.' Now I enjoy speaking. Thank you, Lisa❤."

"I feel sooo much more at peace when public speaking. Thank you so much."
"I now have confidence when promoting my business! Thank you!"

"Super important lesson — will change everything!

"You have inspired me to move forward with my business."

"Thank you for all the valuable info… professional intro done in ten minutes. Love it!"

"I have a professional introduction. Yippee!"

"Inspiring, sassy, compassionate. Thank you!"

"Thanks for making me feel better about how I speak."

"Thanks so much for helping us with our speeches. It's not at all scary now!"

"So helpful! Really got me thinking on how to describe my business well and short."

"After all these years, I can finally say what I do. Where were you ten years ago?"
"Thank you for spending time with the kids last night. You were fantastic! I don't think I've ever seen Cate students that engaged in an alumni event. You set a great tone for the Alumnae Network along with the Alumni Speakers Series. I'm marking it down as a full-fledged success."

"Thanks for considering your audience and for putting together a dynamic presentation to 65 high school students, who you engaged from the moment you began. I thought the Q&A portion of your program best illustrated how interested the students were in the topic."

Meg Bradley, Assistant Headmaster External Affairss
Cate School
Santa Barbara, CA
"It seems every day since our training, we at the Scholarship Foundation of Santa Barbara are finding ways to incorporate the many techniques, suggestions and guidelines for effective public speaking taught by Lisa Braithwaite into our work.

While we all admitted to being nervous at some level about public speaking, Lisa managed to break the process into manageable steps that allowed one and all to feel confident and ready, providing us with an assortment of tools and skills with which to build an interesting, well-organized, and memorable presentation. Who would have thought this would be fun?!!

As staff, we were so motivated by the training that we immediately began the process of reworking our longstanding PowerPoint presentations, with a goal of creating concise, interesting, factual and relevant new slides that will serve as our 'talking points' to share this fall at schools and in other public forums across the county.

We highly recommend Lisa's training to any organization that hopes to improve the quality and effectiveness of its public speaking presentations."
---
Program Topics
---
Speak to Engage: Be Memorable and Meaningful with Audience-Centered Presenting
It can get pretty lonely on stage. Sometimes your audience is not there by choice. Sometimes your audience is skeptical or hostile. Sometimes your audience just needs their first morning coffee!
Whatever the reason, we don't always receive the level of attention and interest we hope for as presenters. And if they're not interested, and they're not paying attention, they're not engaged.
Why does this matter?
>> You have a valuable message to share.
>> You have something they need or want.
>> You — ultimately — want to make the sale, get the client, teach the student, persuade the colleague and change people's attitudes or behaviors.
If your audience isn't engaged, you can just forget about all of that.
This interactive 1 1/2-day workshop gives tools and tricks for getting your audience's attention and keeping it, and creating a memorable and engaging experience that will make them want more!
The time frame offers plenty of room for group discussion and the opportunity for each attendee to deliver and revise a short presentation. Topics we'll cover include:
Openings and closings
Audience interaction and involvement
Toys
Props
Demonstrations
Stories
Examples
Analogies and more!
"Great job. Lisa really has a calmness about her that comes across when she speaks. I really enjoyed her style. She only had one hour to get us the main points which she did well. I still have a long way to go on my own. :-)"

Doug Kirton, Hockey Director
Sno-King Hockey
Kirkland, WA
Speak Up! 5 Daily Challenges to Build Your Confidence Muscles at Work, at Home and in Front of an Audience
If the "comfort zone" is so comfortable, why would we ever want to leave it?
This workshop encourages participants to get out of their comfort zone and take on five challenges that will help them build confidence in their personal lives, in their work lives and, ultimately, on the public speaking stage. Confidence is both mental and physical; it's the positive way you perceive yourself, and it's the way your body projects that positive self-image.
Interactive exercises allow participants to engage in mini versions of the challenges, which can be customized for individual levels of difficulty, and can be practiced at any time in a variety of settings.
---
Networking Works: Build Relationships to Build Your Business
Networking is a critical tool for building business, yet many business owners and professionals don't represent themselves or their businesses effectively.
This workshop covers networking basics like:
* Preparation
* Elevator speeches (the good, the bad and the ugly!)
* Understanding what makes you stand out
* "Working the room"
* Entering and exiting conversations
* Dealing with anxiety
* Being a resource
* Following up, and more.
Workshops over 90 minutes includes interactive networking practice.
"I always appreciate Lisa Braithwaite whenever she speaks, most recently for the Goleta Valley Chamber Ambassadors.

Not only did Lisa encourage the entire team to participate in her customized, interactive presentation, but she provided a fresh perspective with many terrific suggestions that we plan to implement at future events.

She made us realize that public speaking isn't just about talking in front of a room, but can also take the form of business meetings, mixers, networking functions, etc.—as the group presenting the event, or as an individual introducing yourself to others.

In 2010, I hired Lisa to help me prepare a 10-minute presentation about my copywriting business to a professional organization; with her extremely valuable guidance, I was able to clarify my approach, simplify my message and maximize my impact. She's the best!"
"Lisa is an incredible public speaking coach and I always learn something from her, which helps me stay on the top of my game. I always appreciate knowing that Lisa will be a presenter at any event that I am involved in. I just wish that more people would take advantage of her professional knowledge and skills."

Drew Wakefield, Director of Sales and Marketing
Ramada Limited
Santa Barbara, CA
"Giving young people the tools to feel confident while speaking in front of others will help them in immeasurable ways. These students will not live their lives trying to avoid public speaking. Instead, they will understand that speaking publicly is an opportunity. Ms. Braithwaite gave the students at Marymount a valuable gift with her training."
Take Your PowerPoint from Mess to Success

What's the fastest, surest way to bore your audience to tears, destroy your own credibility, ruin any good points you have to make, and kill even the best presentation?
Use PowerPoint.
At least, that's what a lot of people used to say, but not anymore…
Experienced speakers know that used the right way, PowerPoint can add emphasis, dramatic flair and fun to your presentation, increasing retention of your content and delivering a valuable learning experience for your audience.
This workshop on best practices for effective PowerPoint covers the following topics:
* Image-based slides
* One idea per slide
* Research on effectiveness of bullets and slide titles
* Slides vs. handouts
* Effective font sizes and color contrast
* Is there such a thing as too many slides?
"I attended your Power Point webinar a little while back and made good use of the info you provided.

I do regular presentations at schools for CEC's Rethink the Drink program and have been using the same PP for a few years now. Your webinar inspired me to update it and to use your 1 idea/1 slide guideline.

I used the new version at FOUR assemblies this morning and not only did it go over great with the kids, it was easier and smoother for me to stay on topic.

Thanks for the guidance!"

Kathi King, Donor Relations Manager
Ditch Plastic Program Manager
Community Environmental Council
Santa Barbara, CA
"I thoroughly enjoyed your enthusiastic workshop! The tips you gave us were great! While I currently do not have to speak in my career position here at UCSB, in my life away from the office I am a member of a neighborhood advisory committee as well as a neighborhood watch committee. There are a few times a year I must be able to stand in front of other advisory committee members (some I know while lots of others I do not) to do a short presentation.

I feel myself getting flushed, FORGETTING what I really wanted to say but managing to get through without fainting from anxiety!

I will definitely use some of your tips, especially the one about practicing, practicing, practicing! I will also try to use my FEAR for my benefit!

Thanks for a terrific workshop."

Theresa Pena, UCSB PWA Conference
Santa Barbara, CA

Tough Issues, Tough Audiences: How to Present Difficult Topics
This workshop helps participants learn how to express their ideas effectively when the topic is controversial or uncomfortable to the listener. We cover the following:
* Talking about difficult topics with tact and humor
* Understanding the audience's barriers to learning and listening
* Dealing with the audience's fears and concerns honestly
* Engaging the audience with emotion, stories and activities
* Dealing with hecklers, and more.
This topic can be delivered as a 90-minute workshop or in a three-hour training. The longer workshop includes interactive practice.
Preparation for Performance: Using Rituals to Create Public Speaking Success
Successful speakers, athletes, actors, singers, writers and others who are in the spotlight on a daily basis consciously use preparation rituals to set the stage and prepare both mentally and physically for optimal performance.
This interactive workshop will help you discover your existing rituals and create new ones to improve confidence and performance for public speaking and other pursuits!
"Lisa is truly inspirational, authentic and fun!  She has an electric energy that ignites her audience.  With her Bachelors degree in Theater Arts, and Masters in Education, she has the ability to entertain and educate her audience.  Lisa captivated her audience with her vivid story of how she found her true path in life 'time after time'.

We were fortunate to have Lisa Braithwaite as this year's keynote speaker and workshop presenter at our Annual PowerTalk Seminar. A big 'Thank You' to Lisa for a job well done!!!"

Lynn Cederquist, PowerTalk Chairperson/Woodland Toastmasters
Santa Barbara, CA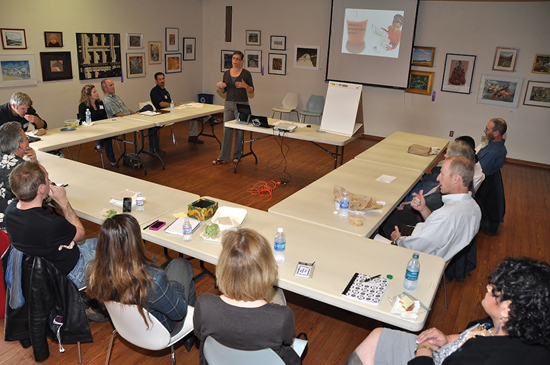 ---
Policies
---
I'm happy to customize a presentation for your needs. Pricing depends on level of customization, length of seminar, travel and other factors.
I will send you a pre-program questionnaire to determine the needs and learning objective of the attendees in order to create a workshop that is tailored to your particular audience.
Preferred room setup
In order to make the presentation most effective and comfortable for me and for the audience, I will send you my preferred room setup form and diagram with the agreement package at the time of booking the speaking engagement.
Booking confirmation
A 50% deposit is required to confirm your booking and reserve the date, and will be invoiced with the speaking agreement. The balance is to be paid at or before the date of the event.
The deposit is refundable if cancellation is received at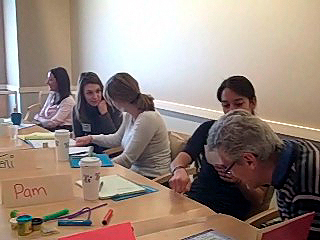 least 30 days prior to the event. If cancellation is received less than 30 days prior to the event, the deposit is non-refundable.
Travel
Speaking engagements within driving distance and beyond 60 miles round-trip will be invoiced separately at the current IRS rate.
All engagements requiring airline travel to destinations within the continental United States are invoiced a flat $1,500 travel fee that includes round-trip coach airfare, airport parking, ground transportation/car rental if needed, per diem for meals and all incidentals.
My hotel room in the case of an on-site conference or retreat should be billed directly to the client's account. I do not provide itemized expense reports.
Payment
I accept checks and PayPal.
Special rates
You may take an additional 10% off the fee when paying in full at the time of booking (at least 30 days in advance of the training date).
If you find my services to be helpful, I offer a 10% discount for additional speaking/coaching engagements booked within a 12-month period.
Contact me for more information or to schedule a presentation.
---
Audio and Video Clips
Click here to listen to audio clips from interviews and previous presentations.
Click here to view some brief videos.
---
Speaking Clients
Antioch University Santa Barbara
Association for Women in Communication
Association of Fundraising Professionals
California Association of Marriage and Family Therapists
Channel Islands YMCA Youth & Family Services
Citrix Online GoToToastmasters
Community Environmental Council
Court Appointed Special Advocates (CASA)
Foodbank of Santa Barbara County
International Special Events Society
Junior League of Santa Barbara
Lt. Governor's Tourism Summit, Louisiana
National Oceanic and Atmospheric Administration (NOAA)
Nonprofit Support Center of Santa Barbara County
Occam Networks
Santa Barbara Female Entrepreneurs
Santa Barbara Referrals Associates
Scholarship Foundation of Santa Barbara
Transitions Mental Health Association
UCSB Associated Students
UCSB Bren School of Environmental Science & Management
UCSB Extension
UCSB Housing and Residential Services
UCSB Professional Women's Association
UCSB Women in Science and Engineering
Work at Home Expo