Presenting for Humans: Insights for Speakers on Ditching Perfection and Creating Connection
As speakers, whether advanced or inexperienced, whether speaking in ballrooms or in board meetings, we all face the same challenges. How do we create compelling, relevant, and useful content for our audiences in a way that they are able to take our messages and use them to transform their work or lives?
How do we engage our audiences and make a human connection, so that they can envision for themselves the possibilities we present and take steps to achieve them?
And what kind of growth and personal development do we have to embrace to get ourselves into the right mindset with the right attitude to support and encourage our audience's growth?
"Even as a professional speaker, I always find gems of wisdom in Lisa Braithwaite's writing. This book is packed with helpful takeaways, fun stories and implementable techniques to increase your confidence as an engaging public speaker."
~Gloria Miele, Ph.D., Executive Coach and Trainer, StrongerLeader.com
Enjoy this guide to how lessons from everyday encounters and experiences can make you a better speaker, a more joyful speaker, a more captivating speaker, a more effective speaker, and, most important, a more human speaker.
"Lisa Braithwaite is willing to talk about the real and raw aspects of public speaking, to offer advice that encourages speakers to reflect upon their craft and rise to meet their potential. Her voice is imperative for anyone who stands in front of others with a message to be heard."
~Ellen Bremen, Professor, Communication Studies
Inside the book, you'll find a link for special bonuses, including a downloadable worksheet, a presentation tools checklist, and a free Presenting for Humans webinar that delves into using analogies to make your concepts come alive to your audiences. Order on Amazon!
---
Speaking Success Checklist Bundle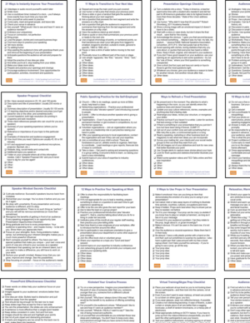 There's a lot to remember when you're starting out as a speaker. And even veteran speakers can get a little rusty when it comes to putting together speaking proposals or freshening up a tired and well-worn presentation.
If you've ever felt like you were "missing" something while putting together a presentation, but you just couldn't put your finger on it, I can help! My Speaking Success Checklist Bundle covers a ton of ground in helping you prepare for your speaking engagements, from getting everything in place for a speaking proposal that gets you the gig, to preparation rituals that put you into the right mental and physical space, to ideas for openings, transitions, engagement, connection, presentation tools and more. Check it out here.
---
Free e-Book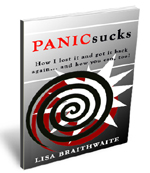 Panic SUCKS: How I Lost it and Got it Back Again… and How You Can, Too is my personal story of battling panic attacks that began in 1990 and exploded in 2009.
Do you suffer from panic attacks? Know someone who does?
I can help.
Click here for more information and to order
---
---
Looking for coaching and training?