Transform your stage presence from standard to standout!
Transform your presentation from prosaic to powerful!
Hello friend!

Do you feel overwhelmed by all the software and technology options available for delivering webinars?

Are you petrified at the thought of your technology failing while you're in the middle of your webinar? (It's happened to me!)

Are you avoiding webinars because you don't have the faintest idea how to put an effective presentation together that keeps your audience's attention and makes an impact – especially with the distractions of e-mail and social media?
Would you like to reach more prospective clients and customers, taking your message directly to the people who need your product or service?
Without the need for "planes, trains and automobiles?"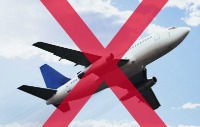 "Lisa is a real pro! She helped me produce an engaging PowerPoint presentation. Gave me confidence in my material and valuable delivery pointers. My audience was so engaged. They couldn't wait to stay after and discuss the content from the presentation. I can't wait to continue my speaking skills with Lisa!"
"In 2014 I made the decision to put some effort into improving my presentation skills.
I knew I was weak with humor and analogies and hoped to find someone who could help in those areas.

I found Lisa via a Google search and sometimes you just get lucky. We spent a few hours on the phone during the winter of 2014 and did another shorter version of training in later months.

Beyond some pointers on humor and analogies, Lisa helped me recognize the importance of audience engagement.

Another area of improvement that I didn't expect came in formatting much better PowerPoint slides. PowerPoint plays a big part in presenting my material, and freshening up the look has improved both my presentations and confidence.

Even for the seasoned speaker, I strongly recommend a few hours with Lisa to hone your skill. Thank you, Lisa!"
I probably don't need to tell you the reasons you should be using educational webinars in your business. You already know you need to be doing webinars. That's why you're here!
And in fact, like you, I knew all the reasons for doing virtual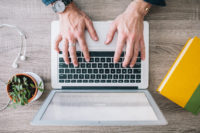 trainings…and yet it took me five years after taking my first class to actually implement one!
I definitely do NOT want you to take five more years to implement virtual trainings, so I'm going to make this very simple and straightforward for you!
---
Webinar Whiz 90-Minute Package includes:
Three 30-minute sessions by phone, Skype/Zoom or in person (if you're local)—to be used within 90 days
One 30-minute debrief call after you've delivered your virtual training to talk about your experience, successes and learning
E-mail access for the duration of your package, starting on the day you purchase the package
Presentation Readiness and Presentation Tools checklists
Presentation Preparation Worksheets
Recording of the Your Webinar Success virtual training, with all the webinar basics you need
A private client resource page with additional materials, bonus webinars and audios
Additional materials, presentation review, personal contacts and other resources as needed
This is a coaching intensive to help you fast-track the completion of your virtual training. We'll spend our time together working on your immediate needs to get your webinar, teleseminar or videoconference out to the world!
Total coaching investment: $800 $597
Registration is closed
"Everyone who heard me speak before meeting with you commented on how much I have changed. Everything is going so much more smoothly.

I still tell myself to stay 'grounded' when I'm about to speak and to slow down. I also shortened and took out a lot of slides. I am very close to not having to look at the slides at all when I speak, except to see which slide it is and then elaborate on it.

You really changed how I felt about presenting and it shows! Thank you so much for everything!!!"

Alexis Louchios
Special Accounts Manager
"Lisa was a HUGE help, especially with putting together PowerPoint slides. Her ideas about using image-based slides rather than text is spot-on when it comes to making a presentation interesting and visually appealing.

Also, when planning my speech it was really helpful to bounce ideas off her and get some feedback. Her insight is invaluable."
Here are some things we might work on together:

Research your audience so you're speaking their language

Organize your thoughts into a clear, compelling and concise message with a flow that leads your audience to your desired result

Choose your webinar platform and technology

Use webinar tools to interact and engage with your audience

Invite and register your participants through e-mail and social media

Use images to enhance your message and trigger your audience's emotions (sorry, no bullet points here)

Get people to show up, as well as listen to the webinar recording
Soon you'll be ready to launch your first webinar, to grow your visibility, build your credibility, and develop your community!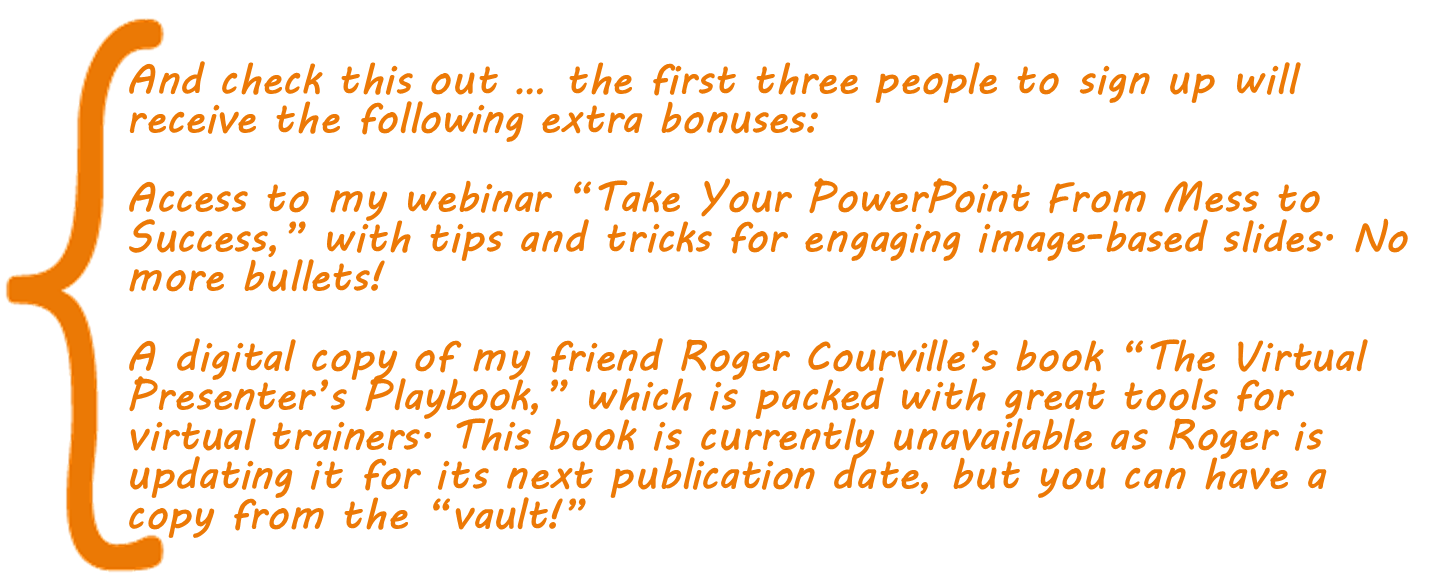 ---
So, here's the big question:
What are you waiting for?
Stop letting your fears and anxieties hold you back from reaching the people who need you. How much can you grow your business by adding webinars?
Registration is closed
---
*The fine print:
Please consider your goals and intentions carefully. My package is NOT for you if …
You're unclear about your purpose for speaking

You're not coachable

You're not willing to question your current practices and mindset

You're not open to trying new things that might be uncomfortable

You're not willing or able to invest time outside of our coaching sessions for homework, preparation and practice

You're not willing or able to come to sessions prepared

You're not willing or able to implement and take action on what you're learning

Your primary focus is on just "surviving" your next presentation and not on developing a lasting proficiency as a speaker