Got speaking engagements?
(But not quite sure how to make the most of them?)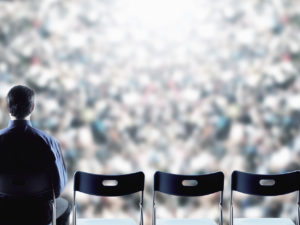 Is this the piece that's been missing from your growth and development as a compelling and dynamic speaker?

Do you feel all alone out there in the world, wondering what others are doing that works?

Do you find it challenging to keep your skills razor-sharp and your content fresh?

Do you wish you could get peer and professional feedback on your presentations?

Do you fantasize about being able to test ideas and new material *before* getting in front of an audience?

Do you struggle with setting goals, following through, and staying accountable?

Do you crave community and a place to share your ideas, content, fears, doubts, celebrations and successes?
When you're the face of your business or of the company you represent:
You can't afford to let your speaking skills rust over.
You can't afford to sleepwalk through canned presentations.
You can't afford to be forgettable.
Unfortunately, that's exactly what happens when no one is holding you accountable and pushing you to achieve more.
It's nice to imagine that you can do it all on your own, that you can implement and take action on what you're picking up here and there in scraps and snippets around the internet.
But let's be realistic. Are you?
You know that staying on top of your game is the best way to keep getting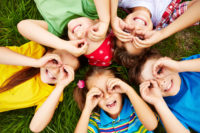 speaking invitations. It's the best way to keep getting clients, customers, supporters, fans, volunteers and donors. And it's the best way to grow your business or organization.
But sometimes you don't need another training or course. What you need is a community.
Now you can accelerate your expertise through the
Speak to Engage Mentoring and Mastery Program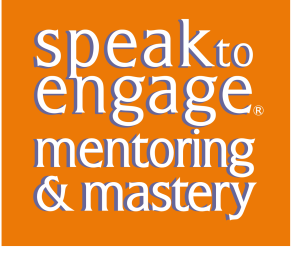 A program where you'll find community, connection, coaching, critiques, and confidence!
"Lisa is a master in speaker training. Her top notch resources, including blog posts, ebooks, videos and speaking challenges, address some of the most essential elements of good public speaking.

As someone who has been doing public speaking for nearly 20 years, I consider myself an 'advanced' student and I still learned a ton that I was able to apply to further improve my presentations."

Gloria Miele, Business development and leadership coach, speaker, consultant and trainer
Stronger Leader
I had enjoyed Lisa's helpful Speak to Engage program and knew she would be a great resource to help me make the most of my opportunity to speak in front of 400 women. This was the biggest audience for me in my history of speaking, and I only had 15 minutes to make a big impact, AND I had NO experience with creating a PowerPoint presentation!

I hired Lisa and was so impressed with her knowledge, helpful and specific feedback, and incredible pointers which really made my presentation stand out in a day full of speakers! I felt confident on the day of my presentation thanks to Lisa – she is definitely an expert!

If you are new to speaking or want to take your speaking to the next level, I give Lisa Braithwaite my highest recommendation! Thank you so much, Lisa!"

Michelle L Wilson, MA LMHC
The Mindset Shifter
InnerOasisCoaching.com
"I am deeply thankful for Lisa's assistance. She helped me improve my presentation content, slides and delivery. This has had a positive impact not only on my confidence, but also on the evaluations provided by my audiences.

In fact, my keynote presentation at a recent M&A conference in which 150 were present earned a "your presentation was superb" comment by one of the organizers and would not have been possible without Lisa's coaching.

I highly recommend her services!"

John Paglia, Ph.D., MBA, CPA, CFA
Associate Professor of Finance and Director, Pepperdine Private Capital Markets Project
I know you want to give your audiences the best experiences possible.
I know you want to make sure you're delivering top-notch content in a way that your audience can best engage with and retain your message.
I know you want to reach out to them authentically and own the room with confidence.
And I know you want results from your presentations, whether it's more clients, customers, partners and supporters, more visibility and credibility in your field, or advancement in your job.
Maybe you want to make a huge impact on the world, create change, empower or motivate. You're here for a reason!

You know your material and you're an expert in your field—or close to it! And you know what's required to engage an audience, to create a memorable and powerful experience, and to persuade audiences to take action.
OR DO YOU?
(And if you do know, are you DOING IT?)
Many of us come to speaking through chance. We start speaking because a job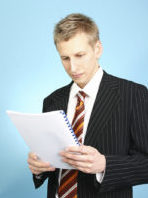 requires it (that's how I got started…), and then the next thing we know, our calendars are full of speaking engagements and we still don't know how we got there or what we're doing!
Or we start a business and discover that—uh oh—new clients don't just fall into our laps. We know that putting ourselves in front of audiences allows us to build that "know, like, trust" factor that is so critical to building a business, so we start plugging away speaking to groups and applying to conferences.
But the pieces and parts still don't quite come together, and we know there's something critical missing from our package.
"Lisa is a fantastically talented coach. Not only does she help you organize, clarify and fine tune your presentation skills, she brings a sense of calmness to a potentially scary topic—public speaking!

I was very uptight and worried about a speech that I was to give to at a large women's conference. By the time the conference rolled around, I was prepared, at ease, and learned so much about my speaking strengths.

I will continue to use Lisa before major presentations. She rocks!"

Susan Hyatt, Certified Life Coach
SHyatt.com
Why am I offering this?
I've been speaking professionally now for more than 25 years, first as a trainer and educator in the nonprofit world, and then through my own nonprofit, and then through my business.
I've been teaching the fundamentals of speaking for 12 years, through live and virtual group training and individual coaching, and I've helped thousands of people develop the skills and confidence to knock their presentations way out of the park, allowing them to bring in new business and boost their professional reputations as an authority on their topic.
But at the end of the training or coaching, there's always been the question: "What next?"
Well now there's an answer: Community!
I've decided to bring together a group of likeminded regular speakers to hash out the questions, to share best practices, to bounce ideas off each other, to analyze and evaluate. To deliberate and create! (Hey, I made a rhyme!)
If two heads are better than one, then five heads are going to generate a massive blast of brilliance.
Back in the day, I was in the thick of it, speaking to audiences on a regular basis, but who could I talk to about the business of speaking, like finding speaking gigs or submitting proposals to conferences? Who could I turn to when I needed feedback on a presentation? Who could I brainstorm and share ideas with, and who would hold me accountable to my speaking goals and dreams? Who could I count on to help me make the most of my speaking opportunities?
I didn't know how to find community with others who do what I do, who want to reach a high level of proficiency, enjoyment and maybe even mastery of speaking—and also receive professional support and coaching.
However, once I found my own community of professional speakers, and started meeting people who were willing to sit down or get on the phone and share their experiences with me and see my business in a way that I can't see it (I can see trees, but they can see the forest), everything changed for me! I started to see all kinds of new possibilities and ways to improve and grow both my speaking and my business.
Now, most who speak for their job or their company will not be eligible for or even want to join the National Speakers Association. And NSA members, while generous and giving, are not professional speaking coaches and mentors.
And this is why I want to offer you your own rich, nurturing environment that will help you grow as a speaker, through community, critique, coaching and connection with speakers at the same level, so you can hash out the questions, share best practices, bounce ideas off each other, get feedback and test your concepts BEFORE getting in front of an audience.
I want to offer you a way to build your skills, your confidence and your mastery of speaking through a program that's customized to your exact needs.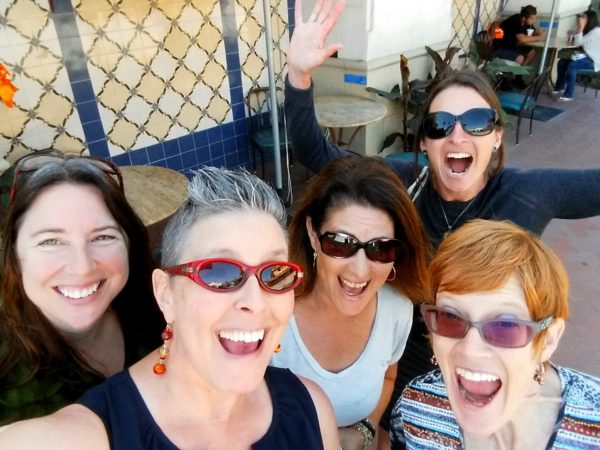 This program is for you if :

You desire customized professional feedback on your presentations

You want to know what others are doing in preparing and delivering presentations that work with real audiences

You want to stop wasting time focusing on what's not working (and not knowing how to fix it) and instead focus on your strengths and abilities

You want a place where you can go 24/7 and get the help and support you need when you need it

You're looking for coaching and camaraderie in a package that's accessible and affordable
During our monthly calls and in our private discussion group, members will have the opportunity to set specific action items, share challenges and seek feedback as you work to accomplish your goals.
~Tamara Simmons, Financial Advisor and Founder, Wealth by Design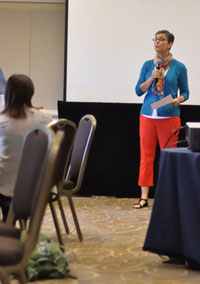 This program is for you if you are committed, ready and willing to:

Master the art and science of public speaking

Push yourself out of your comfort zone

Be open to advice and direction

Do what it takes to implement what you've learned

Be straightforward with your coach and fellow group members

Invest in yourself
What is your vision for your growth as a speaker – and how are you going to get there?

Will you go it alone, uncertain of what's working and how to achieve your goals?

Or will you join a community of speakers dedicated to excellence and mastery, focused on growing their skills, their visibility, their businesses and their ability to facilitate real change in the world?
"Lisa, thank you for your help with my conference presentation. People I respect in my industry told me they were impressed with how much better I was than the last time they saw me, and suggested that I would be a good guy to speak nationally on my subject.

Some of the things that went well included getting the audience engaged and involved, lots of people staying to ask questions afterward, and people telling me that they appreciated and identified with the stories and examples.

And I got just what I needed from coaching:

1. Accountability to complete the task on time (and not suck)
2. Some clever ideas for organization
3. Feedback for some of my nonsense.

Thanks again!"

Don Parsons, Owner
Don Parsons Golf and Twin Lakes Golf Course
What do you get?
1. Your personalized StrengthsFinder® assessment and private coaching call
Learn your top 5 strengths, based on the Gallup StrengthsFinder assessment, and how you can be applying these strengths more optimally in your speaking.
2. Four 30-minute private laser coaching calls with me
These calls will be geared toward your individual needs. Have a presentation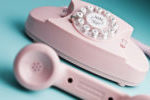 coming up and need specific guidance? This is a good time to use one of your calls! You may distribute the four calls throughout the 9 months of the program, as our schedules allow.
4. 9 monthly live Q&A/accountability calls
This is your time to talk with me personally, to ask questions and to take advantages of my resources, tools, advice and experiences, as well as the support and feedback of your fellow group members. Here's the schedule of our calls. All calls will take place at 1:00 p.m. pacific/4:00 p.m. eastern, and will be recorded.
April 26
May 23
June 27
July 25
August 22
September 26
October 24
November 28
December 19
5. Two live one-day strategic visioning retreats (date TBD)
You will leave the retreat with a clear vision for the next 6-12 months of your speaking, and a clear purpose and plan.
You'll create your vision through exercises, discussion and support, and you'll brainstorm one of your biggest speaking goals or challenges with the group.
Stuck on a topic? Torn between niches? Need feedback on your slides or your delivery? Whatever you need, bring it and we'll put the group to work masterminding each other's project or problem.
"Participating in the workshop facilitated by Lisa was just what I needed! The process we went through not only helped me identify my goals but brought clarity on what I really wanted to accomplish. This focus streamlined my plans and created the steps I needed to achieve my vision. Thank you Lisa!!!!"

Elaine Simpson, Founder
Occupancy Solutions

"The visioning retreat was a one day, interactive and enriching experience. I took away a vivid snapshot of my skills and talents. The best part was the continual overlap of sharing and interdependent coaching that occurred.

Working with Lisa is empowering. Lisa gives 100% of her talent and depth of experience! And she is pure fun."

Jane Macedo de Veer
Former Business Owner
6. Private Facebook group
This is where you can connect with your fellow group members in a fun and safe environment for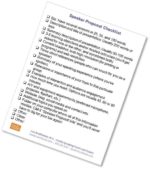 support, feedback, accountability, resources, ideas, and celebrations. I will also be in the group most days to answer your questions personally.
7. Access to my library of resources, tools and connections
You'll have access to my audience evaluations, client questionnaires, checklists, speaker proposals, expert interviews and other resources related to how I run the speaking part of my business.
Participants will also receive the following bonuses:

Access to my PowerPoint training "Take Your PowerPoint from Mess to Success." 

Access to my 4-part webinar series "Stop Stalling and Start Speaking: 4 Weeks to Your First Webinar"

Complementary 10-point PowerPoint evaluation on any of your presentations

Complementary written video critique on any of your speaking videos (up to five minutes of
footage)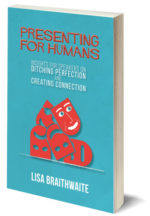 Free download of my Speaking Success Checklist Bundle—23 checklists for all your speaking needs

Signed copy of my book Presenting for Humans: Insights for Speakers on Ditching Perfection and Creating Connection, plus downloadable workbook and bonus products from professional speakers

Bonus ticket to next year's Shake Up Your Speaking: Get Real… Get Results
And guess what: You don't have to pay $8,000 for everything.
The value is there.
The transformation will happen.
The support, coaching, accountability, community and mentoring are available to you when you need it.
And I REALLY want you to be able to take advantage of everything this program offers, for a REALLY affordable rate.
So I'm offering it to you for a special client rate of:
 $2,000 
And I want to make this decision even easier for you, so I'm also going to offer you a multi-pay plan: $400 deposit and 9 monthly payments of $200 (one payment every 30 days).
How much would it be worth to you to have access to my resources, my expertise, and a group of brainstorming powerhouses to access at any time over the next nine months?
(P.S. the resources, the call recordings and all the learning, growth and powerful speaking skills are yours to keep FOREVER.)
---
This offer is now closed.
---
More questions? Review my FAQs below:
Who is S2EMM for?
This program is for regular speakers, those who are on track to become frequent speakers, and anyone who gives regular high-stakes presentations for your job, organization, or business.
This program is for speakers who are looking for more than a "quick fix" to get through the next presentation, and for people who are ready to up their game in a big way. Ready to stop blending in and start standing out? This program is for you!
If you're a speaker who's ready to achieve proficiency and mastery in speaking and you intend to regularly use the skills you learn, this program is for you.
By "regular speakers" do you mean advanced  or professional speakers?
S2EMM is for speakers who have regular speaking engagements or would like to have regular speaking engagements, but you may not consider yourself advanced, even if you've been doing a lot of speaking. You might speak for your job, or you might speak to promote your own business. You might be speaking for free to build your skills and reputation. You do not have to a paid speaker to attend S2EMM.
If you're open and willing to learn, to try new things, and to expand your comfort zone, you are welcome.
Who is S2EMM NOT for?
If you are a person who says "no" to trying new things, if you're a person who says "no" to taking risks or if you're a person who says "no" to looking past resistance toward growth, then this program isn't for you.
If you're a speaker who feels like you have it all figured out, you're not open to suggestions or new ideas, or you feel like you already know everything you need to know, this program is not for you.
If you're a person who doesn't follow through, doesn't want to do the work and put in the practice, makes excuses for all the reasons you can't succeed, or is looking for a "magic pill" to solve your speaking issues, this program isn't for you.
Will all of my fears and anxiety about speaking be resolved?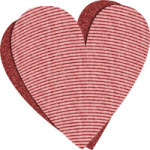 Nope. I will never deceive you by telling you you'll never be nervous about speaking again. Anyone who tells you that, well, they're trying to trick you into giving them your money.
In fact, adrenaline plays an important role for speakers. We learn to manage our adrenaline and our nervousness, and to harness it as a tool, just like athletes and other performers. Honestly, at some speaking engagements, I'm not nervous at all. At others – even after earning a theater degree and spending more than 20 years in front of audiences (including some of the toughest ones you can imagine) – I still get the sweaty palms, dry mouth and pounding heart. It comes with the territory.
What we WILL talk about is how to greatly reduce your nervousness and how to turn your focus to the audience rather than to your own needs and feelings. You'll learn how human connection and authenticity are far more critical for success than polish and perfection. And you'll learn how adjusting your mindset, being real, and approaching your audiences with love and gratitude will change everything for you and make way for transformation every time you speak.
Will I learn to sell from the stage?
This is not a speak-to-sell program. I can direct you to other trainers who offer this.
How can I get critiques of my presentations if the program is virtual?
Members will have the opportunity to upload videos to our private Facebook group for viewing and critique by me and other members. Members can also bring ideas and content for discussion if they don't have video. There will be lots of options for sharing your speaking experiences and questions and getting feedback from the group.
How does this program work?
You'll be invited to 9 monthly group calls, where I'll address any questions or issues that the members have sent me during that time. Members will have the opportunity to get feedback and input from me and from the group on any personal speaking challenges, creative questions, best practices, business issues or anything else related to their speaking goals.
If you miss a call, you'll be able to catch up later with the recording.
We'll also have a private Facebook community for everyone to submit videos and ask questions outside of our regular call-in times.
And everyone in the group will get four private coaching sessions with me during the course of the program. Among lots of other goodies and speaking resources!
How time-consuming is the program? I'm very busy right now.
Your only scheduled meetings are the one call a month that will take approximately one hour, and the two one-day visioning retreats. And you'll want to schedule your four half-hour coaching calls and StrengthsFinder session with me sometime during the nine months.
Everything else, like Facebook discussions, recorded trainings, and any other support, questions or conversations take place on your schedule, at your convenience.
Can you fit this into your schedule? Absolutely! And I bet there are some things you spend time on right now that are lesser priorities than reinvigorating your speaking so you can get more visibility, credibility and clients! (For me, some of those things would be social media, cute animal videos, and pinning recipes on Pinterest…)
I totally get the value of the program, but I'm strapped for cash right now. Is there any way to make the payments easier on my bank account?
I'm glad you asked! You may take advantage of my 9-month payment plan to spread your payments out over the course of the program.
Easy peasy!
Let me know if you have further questions!
"Lisa's coaching services were fabulous. I'm an experienced speaker, but lean towards the professorial approach—which is not necessarily engaging. I reached out to Lisa when I was given an opportunity to do a Stanford MedX Ignite talk this year.

Lisa taught me to transform some esoteric concepts into a compelling story that pulled my audience along. I would highly recommend working with Lisa if you have an important speech."

Lorraine Johnson, JD, MBA
CEO, LymeDisease.org
Program dates
The program runs April through December. All group calls will be held on the fourth Tuesday of each month, except for the first call.
All calls will be held at 1:00 p.m. Pacific/4:00 Eastern and will be recorded.
April 26
May 23
June 27
July 25
August 22
September 26
October 24
November 28
December 19
Will you join me and make the commitment to being the speaker you're meant to be?